We have a very amusing cute dog that loves to be cuddled all the time. So we made a dog salon stock footage set where we cuddle him from paws to tails. And if you believe it or not, at first he wasn't really in to it.
He is an adopted 2-year puppy which was a mess when we took him in to care. His fur was a disaster, he was afraid of being alone (he was barking like crazy) and he didn't chew food, but swallow everything. After almost a year in our care with some training he is almost like new dog with only two small problems. He still swallows food in many cases and he loves to be cuddled. And when we tried to shoot some cuddling, massage and health checking in home made salon, he was afraid. Probably he wasn't used to such way of treating. But, after some caressing he got used to it and started posing for camera.
We made this dog salon studio as simple as possible. We set a small table and put a white textile over, some colorful towels over, TV screen with a text on it in background. We lighted with only one softbox light from over the scene. Back light was from window natural source. Everything we shoot was close-ups and medium shots. There wasn't enough of space to make bigger set, because it was improvised in our computer working studio. You can even see the computer under the table. There was a white desk behind TV screen because there was window there. Under the shelf we had to tape white papers to cover cables and colorful stripes. To give some depth of studio, there was a flower in front, which is fake and standing on trash can and yellow suitcase.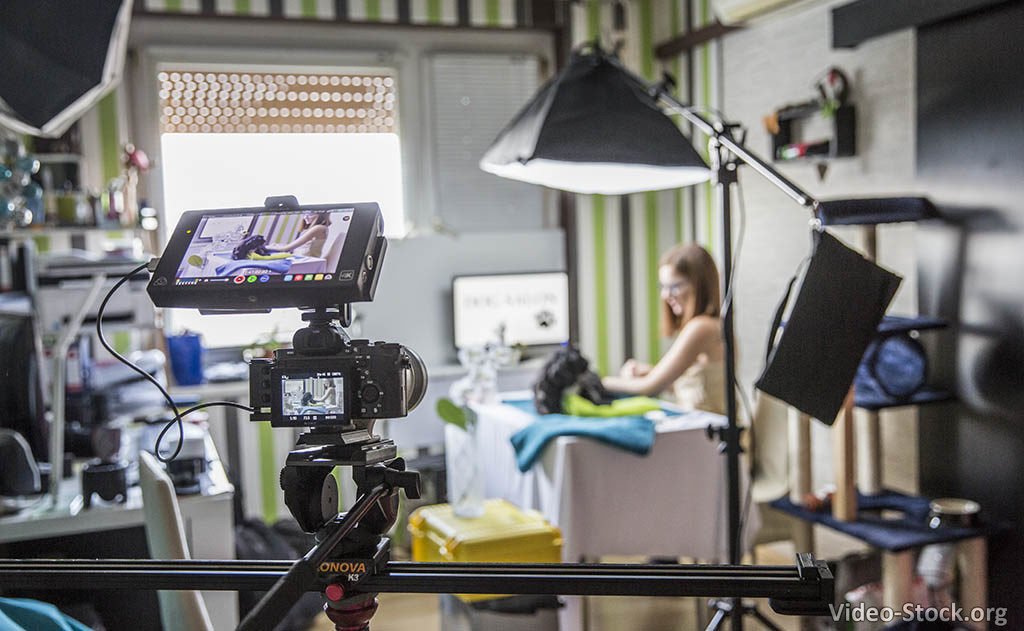 Footage was shoot in 4K with Sony A7s and Atomos Shogun while sliding on Konova slider. We used only Canon 70-200mm f/2.8L II lens to shoot this footage.
You can find this collection at Pond5.