Video production of stock footage is not time-consuming only in post-production, but getting valuable files online. Uploading and adding metadata to stock video agencies can be very stressful and a full-time job. That is why many shortcuts and tools exist to speed up the process. We are contributing stock video footage to agencies for about 6 years and have made a lot of optimization to our process. One of our most important task is to get files online to Shutterstock, which is our main stock footage source of income.
We also upload files to Pond5, where we first made all the titles, descriptions and keywording to our files. Because it has great preview mode, fast editing of data and includes exporting all the metadata. This process is simple but uses at least Microsoft Excel or any similar open source software (LibreOffice Calc). Instead of copy-pasting each file data, we can batch all new files with just a few clicks. And using both title and description at the same time.
[sociallocker id=982]
Adding all metadata on Pond5 stock agency
Mentioned in the introduction, working with Pond5 uploader makes our process much more simple than adding data directly to Shutterstock files. Shutterstock doesn't yet even have any preview mode, neither they support exporting metadata for later use by other agencies.
When you finish adding titles, descriptions, keywords to uploaded files, we can leave them as they are (you can finish sending to Currators anytime). The next thing you need to do is to go under "APPLY CSV" button where you choose the "Video" subpage button.
After it loads the page, you'll see "Download CSV" button. You can save anywhere on your hard drive. Open it with Microsoft Excel or LibreOffice Calc. It will ask you about some details how to show you all the data. Check our screenshot if you need to add or remove any checks. After confirming, the list of all files data should show as shown below.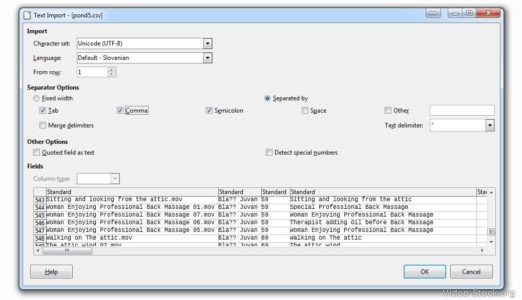 After confirming, the list of all files data should show as shown below. There are many more columns on the right side. And only four columns from this sheet is important to us.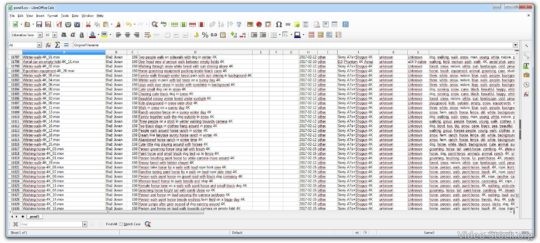 You'll be using data from OriginalFilename, name, Keywords and Description.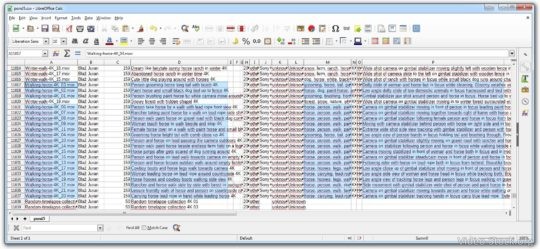 New excel stylesheet for Shutterstock
Now you'll need to open new excel sheet and add columns needed by Shutterstock to recognize our data. We made a saved .csv with "Filename", "Description", "Keywords", "Categories", "Editorial", "r-rated" already added. That is why we just copy and paste right data under proper columns. You'll notice that Shutterstock has a column for Description, but no Title/Name. Put "Name/Title" data under the Description column and also copy Description under an empty column. In nearest left column make a dot with single space. See image bellow:
What we want to achieve is to combine Title with Description. And between both, we need to add a dot. When we have Title, dots and Descriptions all arranged we choose another empty column row and go into Function Wizzard. Find under Category Text and CONCATENATE function. There you only have to put right rows into text boxes. In our case, it was  B2 for Title, G2 for dot and H2 for Description. You can also click the selected rows if you are not sure which number goes where. After clicking OK, you should see combined text in the newly selected row. If it shows correctly and dot is between, just pull the function in right bottom of row till the end of the list and you'll get all files with new combined Description. Cut out this column and paste it under Description. You'll need to paste as "Paste special" (CTRL+Shift+V), because you want only TEXT to copy without the functions.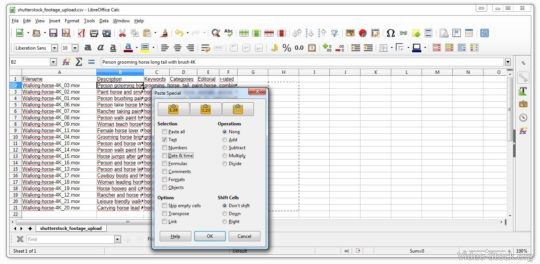 Your finished CSV should, in the end, look like this below. You'll find categories on Shutterstock under the Submit Videos page.
To finish this metadata file, you'll need to save it properly. When saving, tick the "Edit filter settings", and then un-tick the "Save cell content as shown" in the next window. Push OK and file is ready to upload via Submit Videos page on Shutterstock Contributor page.
[/sociallocker]
With this trick, you can speed up tagging stock footage files drastically for Shutterstock. You can actually batch and upload hundreds of files with just a few clicks instead copy-pasting each file.