Choosing right equipment for specific work is crucial in our stock video production. When we choose a 4K photo camera Sony A7s with Atomos Shogun, there wasn't yet any company with photo camera offering 60fps while shooting in 4K resolution. We were stuck with up to 30fps at 4K. We only had some time to shoot in 4K 60fps when we rented Sony FS700 with Odyssey 7Q. Footage is nicely smooth and looked neat. Today only two photo cameras are offering 4K with 60fps: Panasonic Lumix GH5 and Canon 1Dx Mark II.
The Lumix GH5 is a micro fourthirds photo camera with not that great dynamic range and very video looking-like footage. No matter how we look at it shoots video it just doesn't look film-like. It's just this small sensor doesn't give the right look. But we admit it is a cheap camera. For about $2000 you get a fine camera. It just doesn't convince us because we are too used to fullframe sensors, high dynamic range and good ISO.
The other option is very expensive Canon 1Dx Mark II, which could be too good photo camera for us and with 4K 60fps option shooting at only 1.3x crop factor. On one hand it is a monster photo camera with stripped down 4K 60fps video recording option. But it is a full frame camera, it has good dynamic range and not so bad ISO support.
And lastly we hoped for Sony at NAB 2017 to announce new Sony A7sIII, which would improve their 4K to shoot in 60fps. What they really announce was Sony A9 photo camera which would kill all professional DSLRs. This camera has very nice photo features, but no improvement in video. Canon 1Dx Mark II has crop factor in 4K 60fps, Sony A9 has no crop factor up to 25fps and no 4K 60fps. 🙂 Funny thing.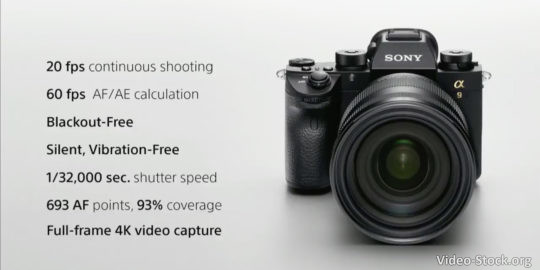 What now? We wait for the next NAB or CES show or just invest more bucks in to bigger and clumsier camera such as Sony FS7 II ? We are disappointed that Sony didn't announce A7sIII.
Read more about 5 Different 4K 60fps Video Camera Equipment Choices on a Budget