Working with many files, archives and upload process of stock footage to many agencies can be a complicated procedure. But not if you find yourself a system that works anytime and anywhere. We achieved this with dedicated miniature computer and NAS storage system with four disk slots. In the past we even had one more dedicated storage computer on faster internet connection location, but since we have optic fiber at our office, we don't need double sent process anymore. But we can still give you a hint at the end of our article how we shortened uploading process if you don't have fast internet connection at home.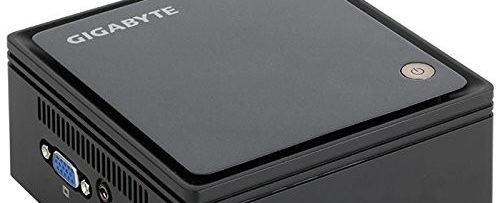 Gigabyte BRIX J1900 Ultra computer
Office computers are big consumers of electricity. If you upload a lot of files it can be online for 24/7. We could use our office computer for uploading only at day and when we are working other stuff, but often we reset the computer or it can be heavily loaded and effect the uploading process. That is why we put up a dedicated computer that can be hidden anywhere. We are also using this dedicated computer for watching television and other media. So it's not used only for one job. Gigabyte BRIX computer is really small, it can only fit one small hard drive or SSD drive inside. It is connected to our local wireless connection and has direct access to our NAS storage server. We only use Teamviewer for access and control. With installed FileZilla we can send stock footage to any FTP server and it can be used to upload files via browser too.
PROS:
– Small and compact
– Faster USB 3.0 port
– Can run 24/7 Windows 7 without any problems
– Can be used for simple tasks
– It has a 1 Gigabit LAN input
– HDMI and audio output
– Low electricity costs
– Available from anywhere (smartphone/tablet)
CONS:
– No WiFi (we are using USB dongle for connection)
– Because of limited graphic capabilities not all video codecs are supported
– AC adapter cable is a bit too short
– Doesn't include memory
– Only one USB 3.0 port

Synology DS413j NAS storage server
Working with video stock footage requires a lot of disk space. For raw files and exported footage. We are at about 8TB of stock footage and still rising. There is about the same amount of raw files, which we delete after some time making room for new projects. Otherwise we would already have 50TB+ of all the data. Archiving so much data just doesn't pay of. We never had any cases where we would need any raw files, that is why we started to delete it. Storing finished files on NAS server is easy as working with extra hard drives on personal computer. We made network drives and have direct access to archives. That is how the server computer is having direct access without unnecessary extra copying anywhere else. Synology NAS has many software options for backups, RAID drives and other file management, but we currently use all four slots for hard drives and only fill them up to 90% of storage. Our future project is to buy 5TB drives or bigger to make RAID and extra external backups of our precious footage. In the past 2TB were big enough for HD footage and was harder to fill up. With production of 4K footage we will need to update size of hard drives to keep up the needs.  We also use NAS storage to save our other projects and in some cases work directly from network on our production computer. Even if the LAN connection speed is 1000 Mbits, slow hard drives are the bottleneck and can achieve only ~50% of full connection speed. Maybe with RAID this could be improved. We have our NAS storage online 24/, whole year. It never fails.
PROS:
– Great user experience
– Many features
– Long years of software support
– Large hard drives support
– Can be used as network drive
– Can set up a FTP server or clouding service for easy files sharing
– 2x USB 2.0 for connecting external drives
– Low electricity costs
CONS:
– No USB 3.0 for faster transfer
– Not able to connect to other FTP servers
– Before upgrading disks, data must be relocated elsewhere
– No Wi-Fi

Secondary (storage) server on high speed internet connection
About two years we didn't have access to high speed internet connection, but our relatives did. That is why we had to set up another server on internet connection at our relatives. The only difference was that this server had another big external hard drive to temporary store new stock footage. We had 2TB disk drive with latest footage, which was then sent from that location to all stock agencies. That way we sent from our office only once to another location and from there to five different locations with higher speed. We actually saved a lot of transfer time. And we didn't need to buy another computer hardware for such project. We only changed our office BRIX server with older laptop computer, which sent newest files to our BRIX server on faster connection. We could also copy files to another external drive and copy files while visiting relatives. This was a temporary setup, which is why we didn't invest in bigger external hard drives or another standalone BRIX computer.
PROS:
– Using high speed connection for multiple upload processes
– Double backup
– No extra costs
– Low electricity costs
CONS:
– In case of secondary server problems there was no quick support
– Because laptop was old it was extremely slow and unresponsive for being 24/7 server