If you are a producer, editor or you just need a specific video stock footage clip from stock agency, here is a step by step course of buying specific clip. Buying a clip from any agency site should be easy, unless they have complicated with buying more credits that you actually need. If that suits your budget, than it should be ok.
Searching for Royalty Free Stock Footage
First step of buying Royalty Free stock footage is searching out specific stock clip. We did actually cover this part already. That is why making this short, it's important to use very descriptive keywords for finding specific footage. We don't advise using filters for narrowing prices, because many suitable and quality stock files are mostly pricier.
Buying suitable Royalty Free Stock Footage
After choosing appropriate video that suit our needs, we click on the image and a window inside the page will open to allow us a quick preview of prices and other details. If you find a link "See item details" and click on it, new window will open with more description and related videos from same stock contributor. Usually related and similar clips should get shown. That is useful when making a longer video from same set. If this is the case, it's better to check contributors Collections. But if you are happy with chosen stock clip, click the Add to Cart button.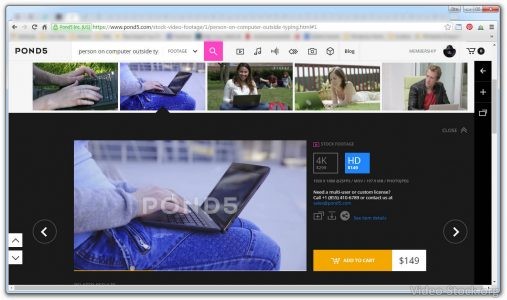 After successfully adding to cart suitable files, go to the Cart basket (usually present in the right top corner) and you'll see all your files and total price. If this is what you selected, click the Checkout button to get to the credit card/Paypal payout options.
This is the last step before buying the files. Choose credit card or Paypal, depends on what you are normally using. Paypal is a lot safer than using credit cards directly, but we didn't have any bad experience using them as well in the past years. After putting all needed data in to boxes, click the Place order and site will process the order.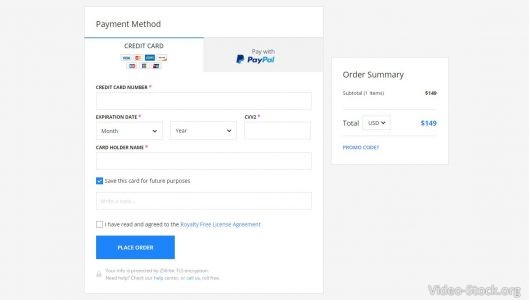 After successful order you'll be transferred to Downloads section where you'll have all files available for download. When downloading files, they are free to use on your project. But don't forget to read their Royalty-free License agreement. What is important, that you have to mention in your project, that files was used from selected Royalty free stock footage agency.